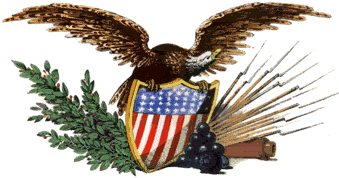 ---
1st & 2d Northeast Missouri Regiments
---
Welcome to the section of the 21st Missouri Infantry website that I've devoted to the men of the 1st and 2d Northeast Missouri Regiments. Because these were the two regiments which were merged to create the 21st Missouri, I decided that they needed to be represented here also. Many of the men who made up these regiments will also found in the rosters of the 21st Missouri Infantry but not all of them. Some of these men joined other regiments, some mustered out, some were discharged with disabilities, some were rejected, etc.

---
* So be sure to check here for your names also. *
---
Service Histories of the 1st & 2d      

Alphabetical Roster of the 1st & 2d      

Men Rejected At The Consolidation

---
---

The information on this web site is for your personal use only. All pages, files, compilations, transcriptions, abstracts, and scanned images are protected by copyright law and may not be copied in whole or in part and published or redistributed in any manner without written consent of the author, contributor and/or webmaster.

Copyright © 1999-2003 Brenda Schnurrer . All rights reserved.
---