Congratulations! Your website has been selected as a featured site in Lightspan's StudyWeb® as one of the best educational resources on the Web by our researchers.
StudyWeb® is one of the Internet's premier sites for educational resources for students and teachers. Since 1996, our expert reviewers have scoured the Internet to select only the finest sites to be included in StudyWeb's listing of educational links.
---

"Today, we have been visited by the 'Ghost of the American Civil War Past', and a wonderfully exciting visit it was indeed! The 'Ghost' we speak of is in the form of a grand tribute to a group of men from Missouri, the 21st Missouri Volunteer Infantry Regiment by a very nice lady dedicated to keeping their memory alive, so long after the greatest war in American History, the American Civil War. We pay tribute to the Men of the 21st Missouri Volunteer Infantry Regiment and to this fine lady, Ms. Brenda Schnurrer, who has so lovingly devoted her time to telling their story. And quite a story it is! This little corner of cyberspace is jam-packed with all any researcher could possibly hope for.

---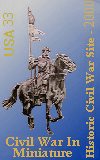 2000 Winner of Historic Site Award
Please accept, the 2000, "Civil War in Miniature" Historic Site Award. Your site is being awarded because of its excellence, unique format, historical significance and because of its contribution to students, educators and interested parties of the great American Civil War. Congratulations!

---
In recognition of a superb and outstanding site, it is my honor to award you the Infantry Regimental Site Award. Your site is a real credit to your devotion, hard work and love for the history and heritage of the 21st Missouri Volunteer Infantry Regiment. A site to be proud of! Articulate and easy to navigate. A site that is very pleasing to the eye. Those of us who surf the web for excellence find it in your site. Please except the award with my gratitude for a job well done.

---
Congratulations! Your site has been chosen for our Golden Infantry Award. For the hard work and research you have put into your site. Thank you for your time in preserving our history.

---
I recently visited your site and defiantly believe it deserves recognition. I enjoyed the great graphics and the wonderful information provided at your site. You should be very proud of your accomplishments and keep up the wonderful work. I am proud to present you, 21st Missouri Volunteer Infantry Regiment, with the Civil War Site Of Excellence Award.

---
Congratulations! Your site has been nominated for, and awarded, the "Great Historical Site Award".

---
Wow! I can tell a lot of hard work and effort has been put into your site. What a super tribute to the men of the 21st Missouri and what an educational tool for the peole of the 21st century. Please accept my humble award.

---
CONGRATULATIONS! You have won The Civil War Fife and Drum Page Approved Award!

---
It is my honor to advise you that your site well deserves the Military Division of the Mississippi Award of Excellence in Civil War Design and Content. I very much enjoyed your introduction to another fine regiment and a fine man. Your great great grandfather is surely proud of your remembrance of him. Please find enclosed, our humble award and our thanks for your dedicated work!

---
Congratulations! Your web site has won the "Buffalo Barracks Award," due to its interesting content, outstanding design and ease of navigation. It is obvious that you have devoted a lot of time and work to a very worthy topic.

---
I have viewed your site for consideration of the Iowa Third Cavalry award.It is a award that I don't hand out to everybody. But I see you have done some great work. Very pleasing to the eye and easy to navigate. I am very impressed. The state of Missouri is second in having the most civil war battles to Virginia. Your work gives a very good account on the Missouri 21 Infantry. And is a credit to the internet on research of the civil war. Keep up the good work. I have book marked your site and have plans on returning.Congrats on a job well done.

---
The information on this web site is for your personal use only. All pages, files, compilations, transcriptions, abstracts, and scanned images are protected by copyright law and may not be copied in whole or in part and published or redistributed in any manner without written consent of the author, contributor and/or webmaster.

Copyright © 1999-2003 Brenda Schnurrer . All rights reserved.